---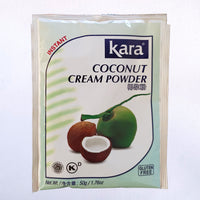 Sale
Santan Bubuk - Coconut Cream Powder
Sale price $1.50 Regular price $2.00
Powdered coconut milk and cream (Santan bubuk) is made from dried coconut meat and is usually mixed with milk or casein and other additives. It has all of the flavor of coconut milk, except it's a powder. It can be mixed with water to make as little or as much coconut milk as you need, and as thin or thick as you like.

Kara Coconut Cream Powder is hygienically prepared from fresh coconut extract using spray dry technology. To obtain the rich coconut cream, simply mix the powder with hot water. Perfect for baking and instant mixes, Kara Coconut Cream Powder comes in a fine powdery texture and irresistibly rich aroma of coconut.
Ingredient: Coconut extract (80%), hydrolysed starch, dairy milk protein (emulsifier), tricalcium phosphate E341 (acidity regulator). 
Net Weight: 50 grams