---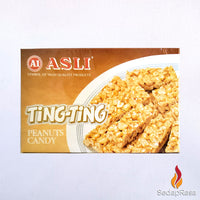 Sale
Ting-Ting Peanuts Candy (A1 ASLI)
Sale price $3.99 Regular price $7.50
Produk A1-ASLI Pematang Siantar hadir dengan Ting-Ting Peanuts Candy yang sudah tidak asing lagi dikalangan penggemar permen kacang ini dikemas dalam kotak 150 gram. Produk tradisionil Indonesian permen kacang tumbuk menghadirkan rasa lezat nostalgia. Cocok untuk menemani acara minum teh sore atau kapanpun juga bersama segenap keluarga atau teman.
The A1-ASLI Pematang Siantar product comes with Ting-Ting Peanuts Candy which is familiar among peanut candy lovers, packaged in a 150 gram box. The traditional Indonesian product of mashed peanut candy brings a delicious taste of nostalgia. Suitable for accompanying afternoon tea or anytime with the whole family or friends.
Ingredients: Peanut, Sugar, Sesame Seeds, Vegetable Oil, Wheat Maltose, Onion.
Storage: Room Temperature.
Net Weight: 150 grams